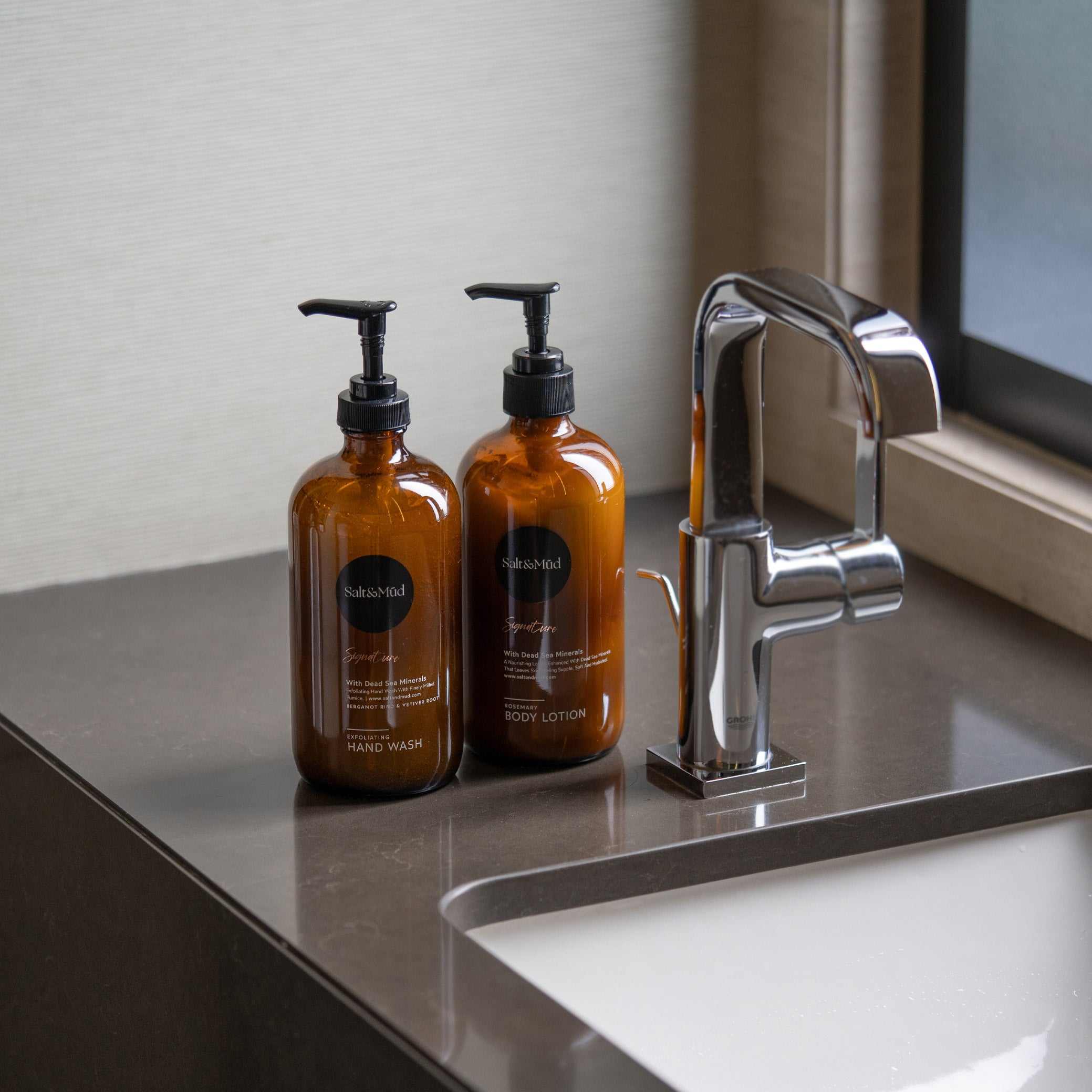 Signature Body Lotion With Dead Sea Minerals 500ml
Introducing the Salt And Mud Enhanced Body Lotion, a luxurious blend of pure Dead Sea minerals and herbal extracts designed to moisturize, protect, and refresh your skin. This creamy lightweight formula, enriched with natural ingredients, swiftly and fully absorbs into your skin, leaving behind a soft and velvety touch. The delicate scent, derived from the aromatic Rosemary essential oil, creates a harmonizing effect, enhancing your overall experience.

A key component of Salt And Mud's recommended beauty routine, this mild and natural lotion offers nourishing properties and essential benefits for your skin's health. Infused with Aloe Vera extract and Vitamin E, it not only soothes but also provides natural moisture, resulting in a revitalized appearance. Embracing Eco-conscious practices, this lotion is housed in an Eco-friendly glass package, reflecting our commitment to sustainability and preserving the environment.
Glass Bottle Is Only Refillable With A Matching Body Lotion Refill.
Apply a generous amount to skin (hands, elbows, and body) with fingertips and massage gently with a smoothing circular motion until complete absorption.
Aqua, Isopropyl Myristate, Paraffinum Liquidum, Glyceryl Stearate SE, Propylene Glycol, Cetearyl Alcohol, Dimethicone, Ceteareth-20, Parfum, Dead Salt, Rosmarinus Officinalis (Rosemary) Oil, Aloe Barbadensis Leaf (Aloe Vera) Extract, Carica Papaya Fruit Extract, Stearic Acid, Cetyl Alcohol, Tocopheryl Acetate, Butylated Hydroxytoluene, Acrylates/C10-30 Alkyl Acrylate Crosspolymer, Phenoxyethanol, Ethylhexylglycerin, Propylene Glycol, Potassium Sorbate, Sodium Benzoate, Linalool, Coumarin, Citronellol, Geraniol, Hydroxycitronellal, Benzyl Salicylate.
Dead Sea Minerals
Dead Sea salt is an amazing hydrate of dry skin. It's got a lot of magnesium, which hydrates your skin by directly strengthening the skin's lipid barrier.

Aloe Vera Oil
Applying this oil may exert skin-lightening and anti-aging effects. It can heal dark spots, wrinkles, stretch marks, and dry skin issues.

Vitamin E
Vitamin E is a fat-soluble vitamin that acts as an antioxidant, helping protect cells from damage throughout your body. It's found in our sebum (skin oil), which creates a natural barrier to keep moisture in your skin.

Enrich Your Skin
Rich In Vitamin E And Dead Sea Minerals
Naturally Moisturizing
Provide Your Skin with The Nourishment It Needs.

Share
Amazing
Make my hands soft and clean with natural smell
When will my order arrive?
As soon as you place your order, our team will get busy packing your order by hand. We take extra care to make sure that all of our orders are sent directly to you with care. Please allow 2-3 days for your order to arrive.
Is the packaging recyclable ?
Yes. The packaging of our is fully recyclable. Please check restrictions in your local area.
The Dead Sea
The Dead Sea sits at the lowest point on earth and is more concentrated in salt than any other sea in the world, making it deeply enriched with an array of rejuvenating minerals